Oasis of Peace
For Shopping Cart and shipping instructions SCROLL DOWN
"It is obvious from the comfortable way the villagers speak on camera that Ajami was able to gain their trust. (Oasis of Peace) is the end product of extraordinary persistence" The Boston Globe
"In the village of Neve Shalom/Wahat as Salam (Oasis of Peace), I learned  that true coexistence goes beyond the fantasy of goodwill and addresses, head on, one's  deepest wounds". Jocelyn Ajami

Corner of Silence,   NSWAS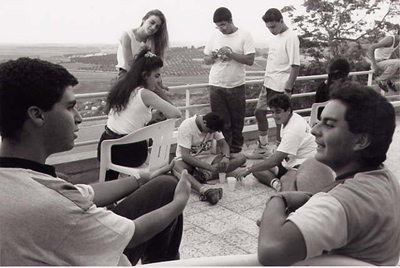 Students, School for Peace

OASIS OF PEACE
28 minutes
VHS video
color and B+W
English. Hebrew and Arabic with subtitles.
The story of a village in Israel, where Palestinians and Jews have been living in active coexistence since 1978. The village and its controversial School for Peace have been nominated five times for the Nobel Peace Prize. A wonderful subject for discussion on race relations, conflict and coexistence.
Available for presentation in Beta SP in conjunction with a lecture on the same topic.
contact: ajami@gypsyheartproductions.com
---
$25.00 Individual home use (DVD, NTSC)
---
$95 Institutional Use (DVD, NTSC)
PAYMENT:
Prices include shipping and handling, we add $15 for purchases outside Canada and the USA.
SHIPPING: Videos will be shipped within two weeks of receipt of payment. All foreign orders, allow three weeks delivery time.
Please make sure when ordering to specify
American format (NTSC) or European format(PAL) where available