BIO / AWARDS
JOCELYN M.AJAMI
WRITER, DIRECTOR, PRODUCER, ARTIST
"Jocelyn Ajami's art is about coexistence –aesthetic, political and philosophical.  The angle lives with the curve in her work; the two dimensional with the three, The Arab with the Jew."  ChristineTemin, The Boston Globe
This is how the Boston Globe describes the work of inter-disciplinary artist, Jocelyn Ajami, painter, writer and filmmaker.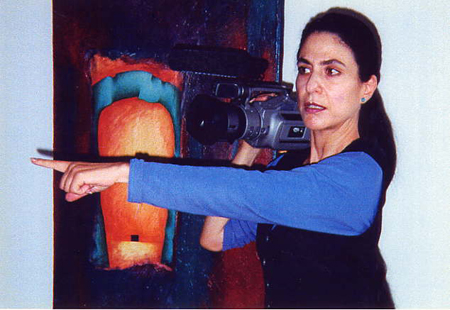 Jocelyn Ajami has had solo exhibitions in Boston, New York and Florence, Italy. She has been an innovator in the creation of "inter-dimensional paintings" and "timescapes", crossing the borders between technique, media, and cultures. In 1991, Ajami expanded her work to include experimental video and documentary film in an effort to reach larger audiences with socially conscious works. Ajami  has screened her documentaries in numerous Film Festivals and Museums, including the Museum of Modern Art and Lincoln Center in New York and the Museum of Fine Arts in Boston.
Among her award winning videos are JIHAD, a short informational on the Gulf War, OASIS OF PEACE, on a village in Israel where Jews and Palestinians coexist, GYPSY HEART, a bittersweet story of Flamenco in Boston, QUEEN OF THE GYPSIES, the most comprehensive biography of Carmen Amaya in the world and POSTCARD FROM LEBANON, an eye witness report of the aftermath of the 2006 war between Lebanon and Israel. In 2008 Ajami won a grant from The Richard H. Driehaus Foundation to show Postcard from Lebanon at the Dublin Diplomatic Conference where she also campaigned against cluster bombs.
Born and raised in Caracas, Venezuela of Lebanese parents, Ajami was educated in The United States and Italy, where she received her MA in Painting and another MA in Art History from Villa Schifanoia in Florence. She also received a BA in French and a BFA in Studio Art from Manhattanville College. She speaks five languages.
Ajami does public speaking on issues of leadership and conflict management in conjunction with the screening of her documentaries. She has published articles for Aramco World Magazine, Cune Press and Flamenco USA.  Ajami has been the recipient of a Leadership Foundation Fellowship offered yearly to only a dozen candidates by the International Women's Forum. She lives and works in Boston. She is a member of Women in Film and Video, of The Radius of Arab American Writers and the Gypsy Lore Society. She is a member of the board of directors of the Center for Cinematography and Social Awareness and of Omayra Amaya Flamenco Dance Company. She is also  a member of the  advisory board  of The Coolidge Corner Theatre Foundation.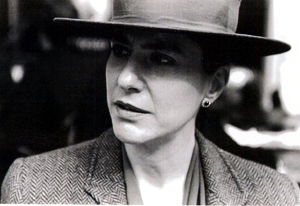 SELECTED AWARDS: JOCELYN M. AJAMI
   2011, GOETHE INSTITUTE EDUCATIONAL TWO WEEK  GRANT FOR CULTURAL MEDIATORS, IN  MUNICH, GERMANY     
   2011, SILVER REMI AWARD FOR SCREENPLAY, GYPSY HEART,   HOUSTON INTERNATIONAL FILM FESTIVAL
2008 RICHARD H. DRIEHAUS FOUNDATION
$10,000 GRANT TO SCREEN POSTCARD FROM LEBANON AND FOR PARTICIPATION AS AN ACTIVIST AT THE DUBLIN DIPLOMATIC CONVENTION TO BAN CLUSTER BOMBS
AUDIENCE CIRCLE AWARD, 2nd Place, 2004
WASHINGTON DC INTERNATIONAL FILM FESTIVAL, QUEEN OF THE GYPSIES
BEST DOCUMENTARY, NORTH AMERICA,
LATINO FILM FESTIVAL, SAN FRANCISCO BAY AREA, 2003 QUEEN OF THE GYPSIES
GOLD SPECIAL JURY AWARD, HOUSTON
WORLDFEST 2003 for QUEEN OF THE GYPSIES
BEST DOCUMENTARY, THE ARTS IN FILM, WINE COUNTRY FILMFEST, 2003 QUEEN OF THE GYPSIES
RICHARD H. DRIEHAUS FOUNDATION GRANT, $6000, 2002 for CARMEN AMAYA, QUEEN OF THE GYPSIES
RICHARD H. DRIEHAUS FOUNDATION GRANT, $35,OOO, 2000- 2001 for CARMEN AMAYA, QUEEN OF THE GYPSIES
MASS COUNCIL PRODUCTION FELLOWSHIP, for CARMEN AMAYA QUEEN OF THE GYPSIES, $2OOO, 1999
GYPSY HEART, "Best of Dance, 1998",  Boston Globe
GYPSY HEART, Silver award, 1998, Worldfest, Houston International Film Festival
PEOPLE OF THE YEAR AWARD, Tab Community Papers, 1997
WOMENS INTERNATIONAL FORUM, LEADERSHIP FOUNDATION FELLOWSHIP,  Washington DC, 1996
OASIS OF PEACE, Merit Award, 1995, Worldfest Houston International Film Festival.
JIHAD, Honorable Mention, American Film and Video Festival, 1992
PROJECT DEVELOPMENT GRANT, Ministry of Culture, Bucharest, Romania, 1992
Contact: ajami@gypsyheartproductions.com